Minnesota Law Officers Among First to Receive Combat Rosaries for Heroes
Police officers in Buffalo, Minnesota and deputies with the Wright County (MN) Sheriff's Office are among the first law enforcement officials to receive Combat Rosaries for Heroes. Rosaries for the Buffalo Police Department and Wright County Sheriff's Office were recently presented by volunteer Susan Robinson.
Buffalo Police Chief Pat Budke (pictured above with Officer Logan Haskins) and Wright County Sheriff Sean Deringer accepted the Rosaries on behalf of their respective staff members. "All were incredibly grateful and humbled to receive these beautiful and powerful weapons and relics," Robinson said.  "They are very grateful and excited to give them to other staff members."
Combat Rosaries given to the law enforcement officers were blessed by Fr. Richard Heilman, founder of Combat Rosaries for Heroes Inc. Each Rosary was touched to a relic of the True Cross, making the Rosaries themselves third-class relics.
An incident earlier in 2021 dramatically demonstrated the dangers these law enforcement heroes face every day. A man walked into a local health clinic with a gun and began shooting. Five people were injured before the gunman was taken into custody. One of the victims died from gunshot wounds. "Our heart breaks as a community," Budke said at a Feb. 9 news conference at the Wright County Government Center.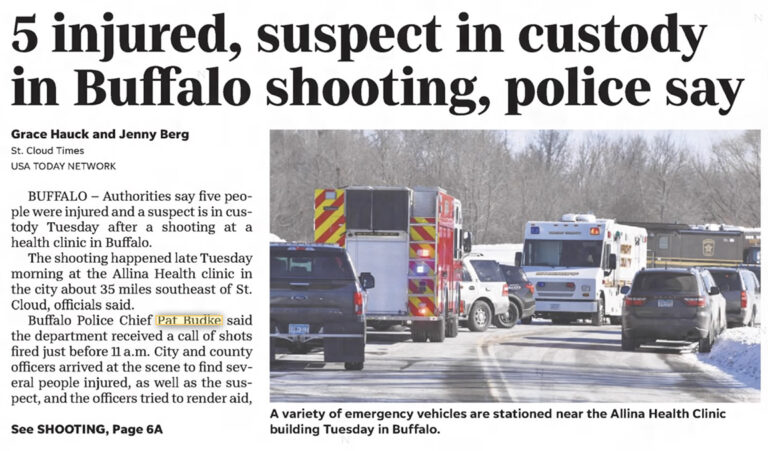 Calls for help began coming in just before 11 a.m. from the Allina Health clinic in Buffalo. When officers and deputies arrived, they found several people injured, according to coverage in the St. Cloud Times. Officers found a suspicious package in the clinic lobby and evacuated the building. The bomb squad from the Minneapolis Police Department was called in.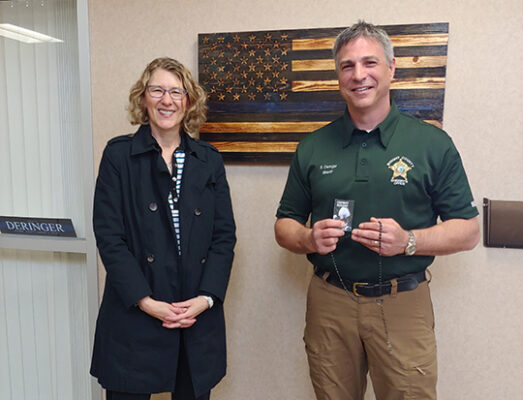 Gregory Paul Ulrich, 67, of Buffalo, was later charged with second-degree intentional murder and four counts of attempted first-degree murder. Police said he set off two explosive devices during the attack on the clinic. Two other explosive devices were found. Ulrich was reportedly upset with the care he received at the clinic.
The Wright County Sheriff's Office is the third-largest sheriff's agency in Minnesota. The Buffalo Police Department has 17 officers and a reserve staff of nine volunteer officers. Wright County has a population of about 125,000, located between Minneapolis and St. Cloud. The city of Buffalo is the county seat and has a population of approximately 18,000 people.