We are at war. Those four words have been true in one place or another throughout most of human history. And they are very true today, although not just in time and space. The most pressing war we face is supernatural. Saint Paul expresses this well in Chapter 6 of his letter to the Ephesians:
Put you on the armor of God, that you may be able to stand against the deceits of the devil. For our wrestling is not against flesh and blood; but against principalities and powers, against the rulers of the world of this darkness, against the spirits of wickedness in the high places.
The spiritual war rages all around us, a battle of good versus evil. As Catholics and members of the Church Militant, we are called to oppose — militate against — evil in the world. This has never been more apparent. Our Lord gave His Church the sacraments to strengthen us on our earthly journey. His Blessed Mother gave us a powerful sacramental to engage us in prayer and enlist help from the Church Suffering and the Church Triumphant. The Holy Rosary.
At Combat Rosaries for Heroes, our mission and goal is simple. We aim to provide free Combat Rosaries to members of the U.S. military, law enforcement and first responders. These brave people risk their lives daily to protect Americans, and we want them to carry this special sacramental.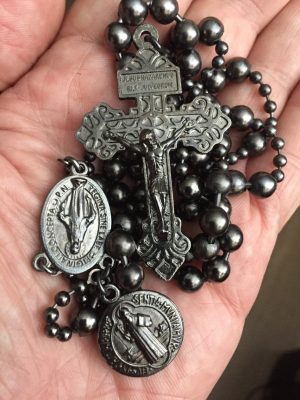 The Combat Rosary was designed by Fr. Richard Heilman based on the pull-chain Rosaries issued to soldiers in World War I. It features a Pardon Crucifix, the Miraculous Medal and the Medal of St. Benedict. Father Heilman has long had the dream of helping our heroes by providing free Rosaries.
In war, one of the keys to victory is to establish and maintain supply lines, to keep open the routes for food, medicine, weapons and supplies. Our first task at Combat Rosaries for Heroes is to establish supply lines for this special sacramental. We will work directly with branches of the U.S. military, the Archdiocese for the Military Services, USA; and with law enforcement and first responders to provide free Combat Rosaries, touched to a relic of the True Cross that was rescued during the D-Day invasion of Normandy.
How many people can we help with this incredible sacramental? The goal is open-ended, but clearly our task will be "as many as possible." Your tax-deductible financial support will make all the difference in this worthy endeavor. Help us get these beautiful and durable Combat Rosaries to heroes stationed all over the world, along with a leather carrying case. Please donate today.